Browsing the
2010 January

archive
With a light dusting of snow on the ground here in Colorado, we are anxious for the first sign of spring! I know we're only barely halfway through winter, but this image found on Pretty Good made us smile…
ooooo…..could we PLEASE design a summer wedding with these colors? pale blue, raspberry red, and milky white with just a touch of silver? Summer delicious!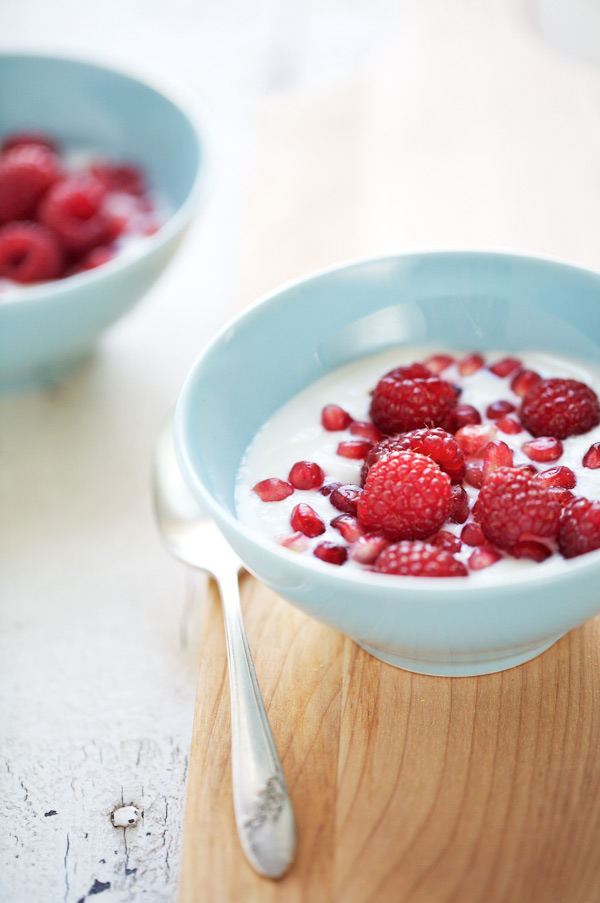 Image via La Tartine Gourmande
Rumor has it that Martha Stewart Weddings is featuring a same sex wedding in the upcoming Winter issue (see sneak peek courtesy of 100 Layer Cake below). MS Weddings has always a trailblazer in the wedding industry, and at A Touch of Bliss we are ecstatic to see a media powerhouse publish something we already know: Love is for everyone, and marriage should be too! Way to go Darcy! Bravo!
We love this heavenly confection of silk presented by Bianca Nuno on Etsy.com. What a pretty touch to a summer dress, just a touch of softness. Offered by Bianca Nuno on Etsy.com for $215.00.
Lighting, Decor. Sound. Those three elements only begin to describe the talented group of Pink Monkey Solutions. For couples who can imagine an extraordinary event, Pink Monkey can deliver imaginative solutions beyond their wildest dreams! Just take a look at a few samples of their work:
The Pink Monkey team can create at atmosphere with textured lighting, furniture rentals, and sound that can change the scape of any venue.
The flock of Monkeys are among the most creative people in the Rocky Mountains! Meet them at VOWS or at their office in Vail to begin designing your event!
With couples bringing new ideas to us every day for creative save the dates, we saw this film version, and realized that Jeff and Erin from Australia have brought Save-the-Dates to a whole new level!!
You can view the full size trailer here: http://www.jeffanderin.us/
Want to produce something something like this for your Save the Dates? Contact Jeff from 1321 Studios, www.1321studios.com to start making your movie!
If you are a bride or groom in the Colorado area, have you considered attending the VOWS Green Wedding Symposium? This event will feature many of the VOWS vendors giving examples and showing their amazing ideas and products to help you design an eco-friendly, beautiful wedding! Stop by and see the latest in eco-friendly invitations, green wedding gowns, find out what "green photography" means, try the latest in green beauty products, and so much more!
Interested? Send us a RSVP to rsvp@wedovows.com or give us a ring at 303.474.4862
A little sparkle and shine via Bits of Beauty…
This past August, Brooke and Pat tied the knot with a funky, fresh style – they wanted bright, vibrant colors, and a pop-art, Andy Warhol theme. Since they are both native Coloradans, choosing the City Park bandstand was a romantic, urban choice for this couple. They floated through a sea of bubbles down their custom red runner.
The masters at Denver Design Works and custom linens from A Boulder Affair transformed the Marco Polo ballroom at The Curtis Hotel to create a pink and orange party space. They also changed the patio area into a Miami-esque blue lounge for guests – an urban oasis.
The bride and groom were serenaded by recording artist Jessica Sonner for their first dance.
And later in the reception, guests were treated to abstract performance artists by Borillo Entertainment.

The staff at the Curtis hotel created a menu that was perfect to theme – bubble gum martinis, milk shake shooters with an oreo garnish, and tiny Campbell's tomato soup with grilled cheese sandwiches. Divine!
These amazing images were provided by Kim Nodurft, what a photographer!!
From inspiration to wedding day, we were so excited to help put this amazing wedding into reality!

We wish Patrick and Brooke all of the love and happiness that we saw on their wedding day for years to come!

Wedding Planner: A Touch of Bliss
Ceremony Venue: City Park Bandstand
Reception Venue: The Curtis Hotel
Photographer: Kim Nodurft Photography
Event Design and Lighting: Denver Design Works
Linens: A Boulder Affair
Bridal Gown: Blu Bridal Couture
Flowers: Flowers by Candy
Runner: CustomizedWed
Bakery: Das Meyer
Ceremony and Reception Music: DJ Brian Howe
First Dance: Jessica Sonner
Performance Artists: Borillo Entertainment
Ceremony Rentals: Butler Rents
Hair: Marcus Garcia
Make-up: Ryan Griffith
Transportation: Limo Express
So sweet of the Denver Post to run a bit in last week's style section about VOWS! Click here for the full article, here is a snippet:
Kerri Butler has been a wedding consultant for 12 years, but only now can she refer couples to a host of vendors who can help them plan their big day, all under one roof. Butler's business, the Vows wedding collective, recently opened at 1810 Blake St. Six wedding and party supply businesses and Butler have their offices there, while another 13 keep marketing material on hand and participate in such special events as trunk shows and wedding planning classes."We have 19 vendors in here, and all of them are at the top of their game and industry, including flowers, music, entertainment, event design, stationary, photography, and hair and makeup design," she says.
Read more: http://www.denverpost.com/search/ci_14135988#ixzz0cYvHECuU